Are you interested for monthly server support with Unlimited tickets, 24×7 monitoring, Security Audit and lot more ? please check our Monthly server support plans

How to Create a New Account in cPanel
The Create a New Account interface allows you to create new cPanel or WHM accounts. cPanel & WHM supports several types of users with multiple levels of permissions:
The root user can create or modify any account and possesses access to all of cPanel & WHM's features.
Resellers can create and manage the cPanel accounts that they own and can access both the cPanel and WHM interfaces. The root user specifies the privileges for these accounts. For example, you can modify access to only allow resellers to suspend or unsuspend the accounts that they manage.
cPanel users can access the cPanel interface and have access to manage most aspects of a website. The root user and the reseller who owns the cPanel account can specify the account's privileges.
For create a new account in cpanel you need to go for the option   "Create a New Account"  from your WHM,

Home »Account Functions »Create a New Account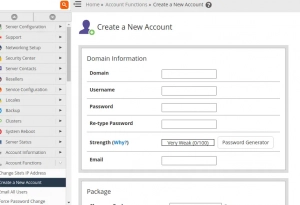 Then you will see an interface as shown in the above image. You can now enter the domain name for the account you needed to be created and also the username and password for the account. There were a lot of options that you can set below to the domain information, Package, settings, Dns, mailrouting etc. You can also go for the settings that you needed for, after that click the option "create" and then the new account will be created.
Need our help to fix the issue ? Submit Support Ticket Now
[sep][/sep]
[button size="large" color="green" title="Server Administration Services from Stack Supports" link="http://iserversupport.com/server-support-products/server-security/"]View Server Administration Packages[/button]