How to install Joomla using Softaculous on cPanel server:
On cPanel server's you can install CMS software's such as WordPress, Joomla, Drupal etc using Softaculous installer. Here we are explaining about the installation of Joomla on cPanel server.
Step 1.
Login to cPanel account for which you need to install Joomla
Step 2.
Go to "Software / Services" tab and select Softaculous.
Step 3.
From the Softaculous window select Joomla and click on install.
Step 4.
Now you will see a window as shown below,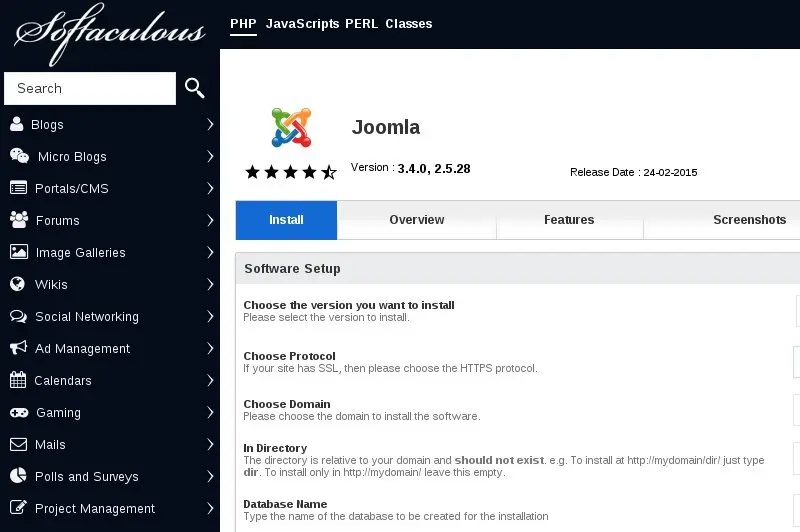 Here you need to specify the fields in the Software Setup tab.
Choose the version you want to install : You need to choose the version of Joomla that you need to install, we recommend to choose the latest version available.
Choose Protocol : Here you need to choose Http or Https
Choose Domain : The domain name for installing Joomla CMS.
In Directory : The directory for installation.
Database Name : The database for the domain.
After completing this you need to fill up the other tabs under Software Setup such as Site Settings, Database Settings, Admin Account, Choose Language etc.
After that click on install button. This will install Joomla on your domain.
If you need our help to fix any issues on your server. Please feel free to contact us, simply email to [email protected]
Monthly server support with Unlimited tickets, 24×7 monitoring, Security Audit and lot more for just $59 

[sep][/sep][button size="large" color="green" title="Server Management from iServersupport" link="http://iserversupport.com/cpanel-server-management/"]Server Management at just $59[/button]