Migrating accounts from cPanel to Parallels Plesk:
You can migrate accounts from your cPanel server to Plesk server using Migration and Transfer Manager in Plesk Panel.
This process can be only applied to the following conditions:
1. This is applicable only for cPanel versions 9 to 11
2. The second server must be a plesk server.
3. The plesk panel need to have the latest updates installed.
4. Also you need to enable Migration and Transfer Manager on your plesk panel.
5. Both the server's need to have same amount of shared and dedicated IP address before transaction.
6. Both the server's needed to be connected through SSH authentication without any issues.
7. During the process of migration SELINUX is needed to be disabled.
The migration process will work fine only if the above mentioned steps are fine.
Step 1.
Login to the plesk panel and open Migration and transfer manager function.
Tools & Settings → Migration & Transfer Manager
Step 2.
Now click on the "Start New Migration button"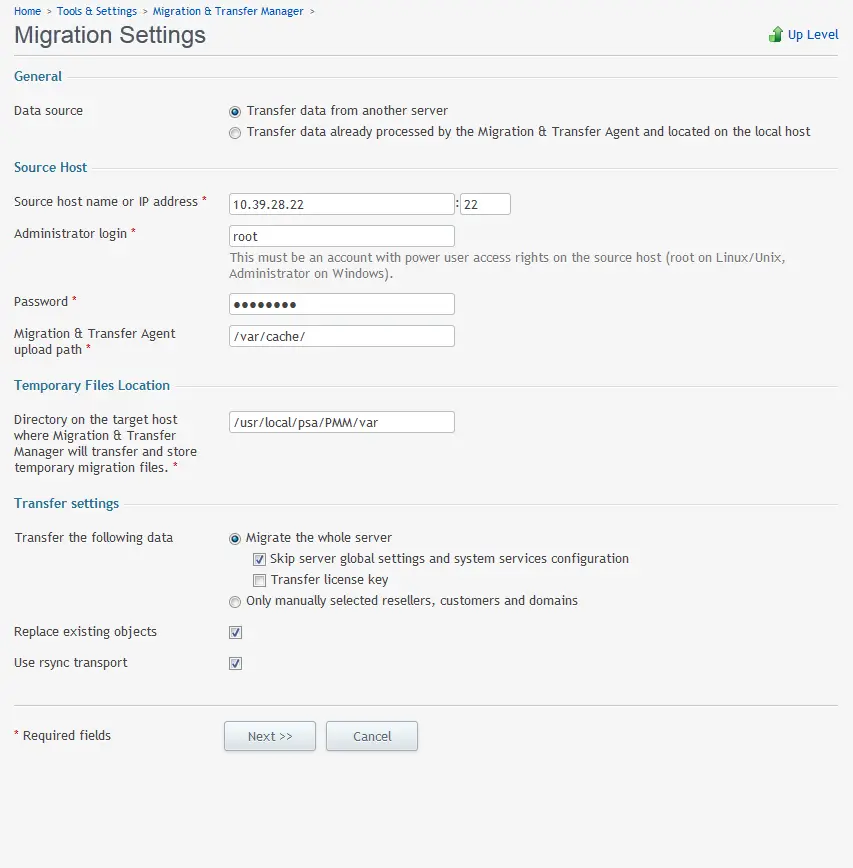 You need to insert the server IP address , SSH port number and server root password on the window.
After that you can choose the mode of migration. Also don't forget to leave the rsync transport option as enabled.
Now you can specify where to store the temporary data during the migration. Make sure there is enough space on the location that you have selected for that.
Step 3.
You will be now able to select the IP address mapping which you can choose the IP address for the domains. Here the IP address that you have selected will be set to the DNS of the domain.
Step 4.
The migration process will get started after the completion of IP address mapping. You can get the progress of the migration from the Migration & Transfer Manager module itself. Also it will list the logs are errors if any.
Step 5.
If you noticed any errors during the migration then you can view the full migration log results from the Migration & Transfer Manager module.
If  you need our help in migration of your server. We can do any type of server migration. Please feel free to contact us, simply email to [email protected]
Monthly server support with Unlimited tickets, 24×7 monitoring, Security Audit and lot more for just $59 

[sep][/sep][button size="large" color="green" title="Server Management from iServersupport" link="http://iserversupport.com/cpanel-server-management/"]Server Management at just $59[/button]