How to set Bandwidth Quotas for cPanel accounts:
You can adjust the amount of traffic towards and from each cPanel accounts on a monthly basis. This can be done from your re seller account on WHM. As you already know this is an important factor for reseller hosting people to restrict the usage of traffic for the clients.If you have created different packages for your various plans, then you can keep upgrading the plan for the particular client that reaches the bandwidth quota limit. In case that you don't want to change the package and you need only increasing the bandwidth quota for the account then you can manually adjust the bandwidth quota only for the particular account.
For changing the bandwidth quota of an account manually, please follow the steps that mentioned below,
Step 1.
Login to WHM as Reseller/Root
Step 2.
Go to > 

Home

 »Account Functions »Limit Bandwidth Usage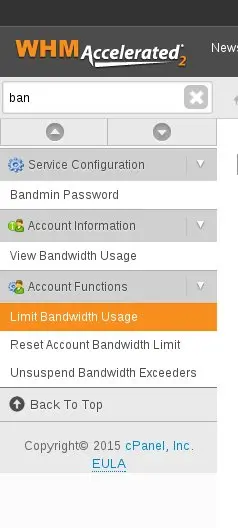 Step 3.
Now you will see a page " Limit Bandwidth on an Account " on this page choose the domain/account for which you need to modify the bandwidth quota. After that click on Limit button.
Step 4.
You can see a Bandwidth Limiter page and from this page you can set the value that you need to assign as bandwidth limit. After that click on Change button. This will change the bandwidth limit for the particular account.
If you need our help to fix any issues on your server. Please feel free to contact us, simply email to [email protected]
Monthly server support with Unlimited tickets, 24×7 monitoring, Security Audit and lot more for just $59